ISSUE #1: SEPTEMBER 2019
Kashmir, Iran and The Pacific
Here is the first  of what I plan to be a regular monthly digest of Belt and Road-related news and analysis.
This isn't meant to be a comprehensive repository of all things BRI - over a month there will be BRI stories in practically every country which is part of the Initiative (and several that aren't). What I'm aiming to do instead with each newsletter is pick out a small number of important BRI-related stories from the last few weeks and delve a little deeper with them, providing commentary that will hopefully illustrate some of the wider geopolitical and geoeconomic context.  
In between issues I'll also produce a shorter post once a month which will compile links out to some of the best English-language news and analysis on BRI (so look out for the first of these posts in early October). 
Since this is the first issue I'll be casting a little further back and talking about events in August as well as September, rather than the usual monthly period which each newsletter will cover.
Three big stories to kick off:
KASHMIR
On 5 August Indian PM Narendra Modi moved to stripped the state of Jammu and Kashmir of its special status, which had previously conferred a degree of autonomy on the Indian-administered parts of the disputed region.
China is heavily implicated in that dispute from a number of angles. The PRC and Pakistan have had close diplomatic, economic and military ties for decades, which have been ramping up further in recent years. The China Pakistan Economic Corridor (CPEC)- a package of transport, energy and communications infrastructure estimated at anything from $30-$62bn-  is often regarded as the flagship of the Belt and Road Initiative (and the key plank in Pakistan's development plans). CPEC will provide a route for China's Gulf oil imports that avoids the Straits of Malacca, via the Arabian port of Gwadar and then an overland road and pipeline route which passes through Pakistan-administered Kashmir to the Khunjerav Pass on the border with Xinjiang.
Complicating the issue of India and Pakistan's rival claims, China also controls parts of the greater Kashmir region (and India holds a small piece of territory claimed by China). A 1963 border agreement saw Pakistan cede a slice of high-altitude land known as the Trans-Karakoram Tract to China (shown as part of China but shaded red on the map below). India still lays claim to this territory as well as areas to its north. 
A larger chunk to the east known as Aksai Chin was part of the brief Sino-Indian war in 1962 and has been under Chinese control ever since. Both sides agreed to respect the 'line of actual control' (which also includes disputed borderlands in other regions) in 2005, but occasional flare ups have continued to occur.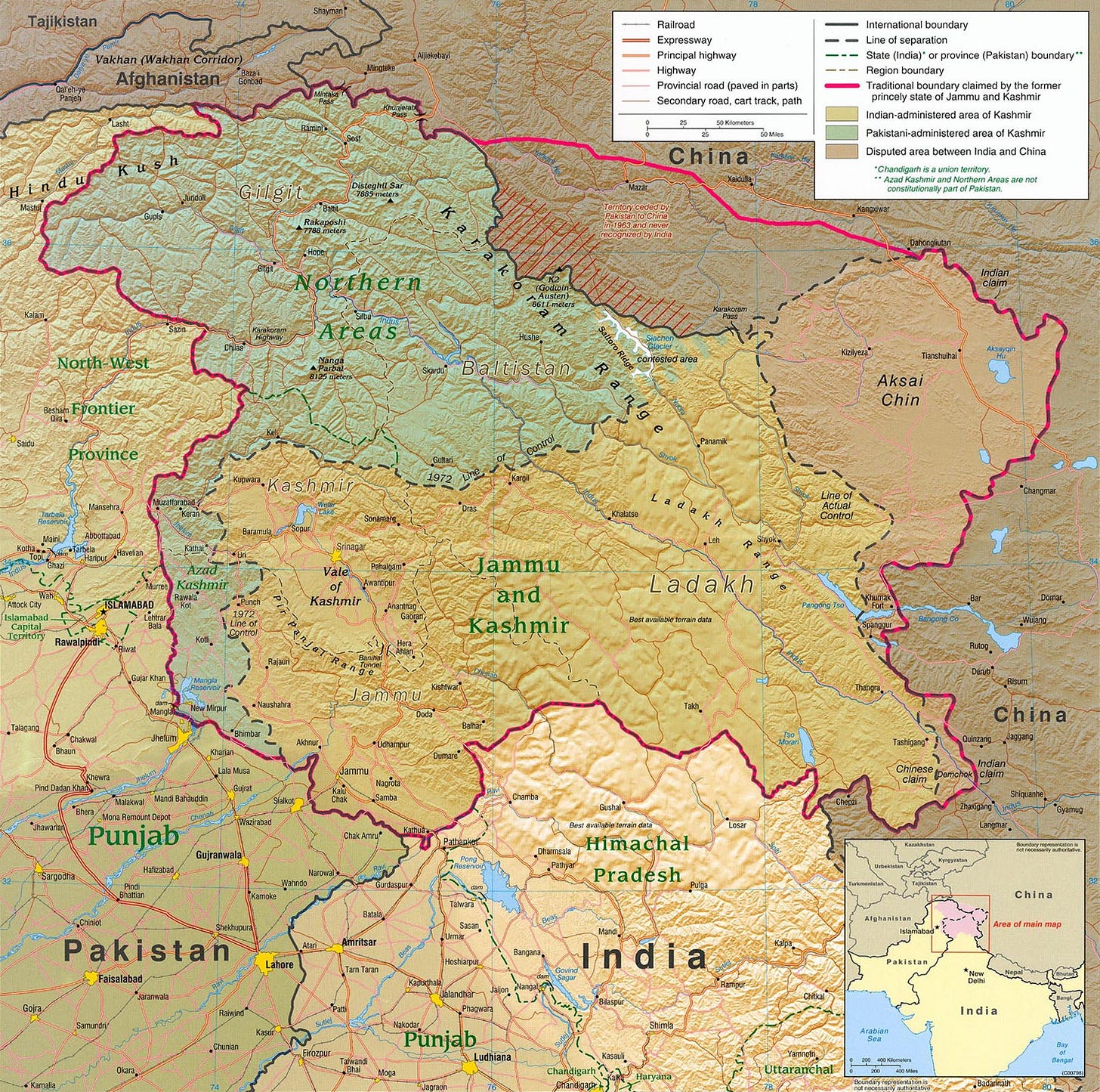 Source: Public domain
Along with revoking special status for Jammu and Kashmir, Modi also announced that the state would be split in two, with the large but sparsely populated Ladakh region (including the Buddhist enclave around Leh) becoming a separate Union Territory. It is this element that seems to have annoyed the Chinese authorities the most, since the new Ladakh UT officially includes not only Aksai Chin but also the smaller Demchock sector to the South (claimed by China but mostly under Indian control- you can see this area in the bottom right corner of the map above).
This is not the place to get into Kashmir's complicated history, nor the various domestic and international issues linked to Modi's decision. From a BRI perspective, there are suggestions India intends to roll out new investment in infrastructure projects across the region, in part as a counter to CPEC. Pakistani PM Imran Khan has meanwhile moved to expedite some CPEC projects, though his hands remain somewhat tied by conditions on spending and debt related to an IMF agreement signed earlier in the year.
THE PACIFIC
Kiribati and the Solomon Islands both recently announced that they will be severing ties with Taiwan and switching recognition to the People's Republic of China. Beijing and Taipei have been locked in a diplomatic struggle over recognition for decades, with Taiwan's Republic of China government holding China's United Nations seat until the General Assembly voted in favour of the switch to the PRC. From then on, both sides have engaged in what has sometimes been called 'stadium diplomacy', with aid projects (such as stadium construction) offered as inducements for often poor, smaller countries to either stick with or shift their official stance. The map below gives a sense of how this struggle has played out since the establishment of the PRC in 1949. Beijing has clearly had the upper hand here for some time, with only 21 countries recognising the ROC by 2016 and that list now having been thinned to 15. They range from a few small to medium sized states in Central and South America (Paraguay, Guatemala, Haiti, Nicaragua, Honduras and Belize), to exceptions in Europe and Africa (The Vatican and Eswatini), to very small island states in the Caribbean and Pacific (Saint Lucia, Saint Kitts and Nevis, Saint Vincent and the Grenadines, the Marshall Islands, Nauru, Palau and Tuvalu).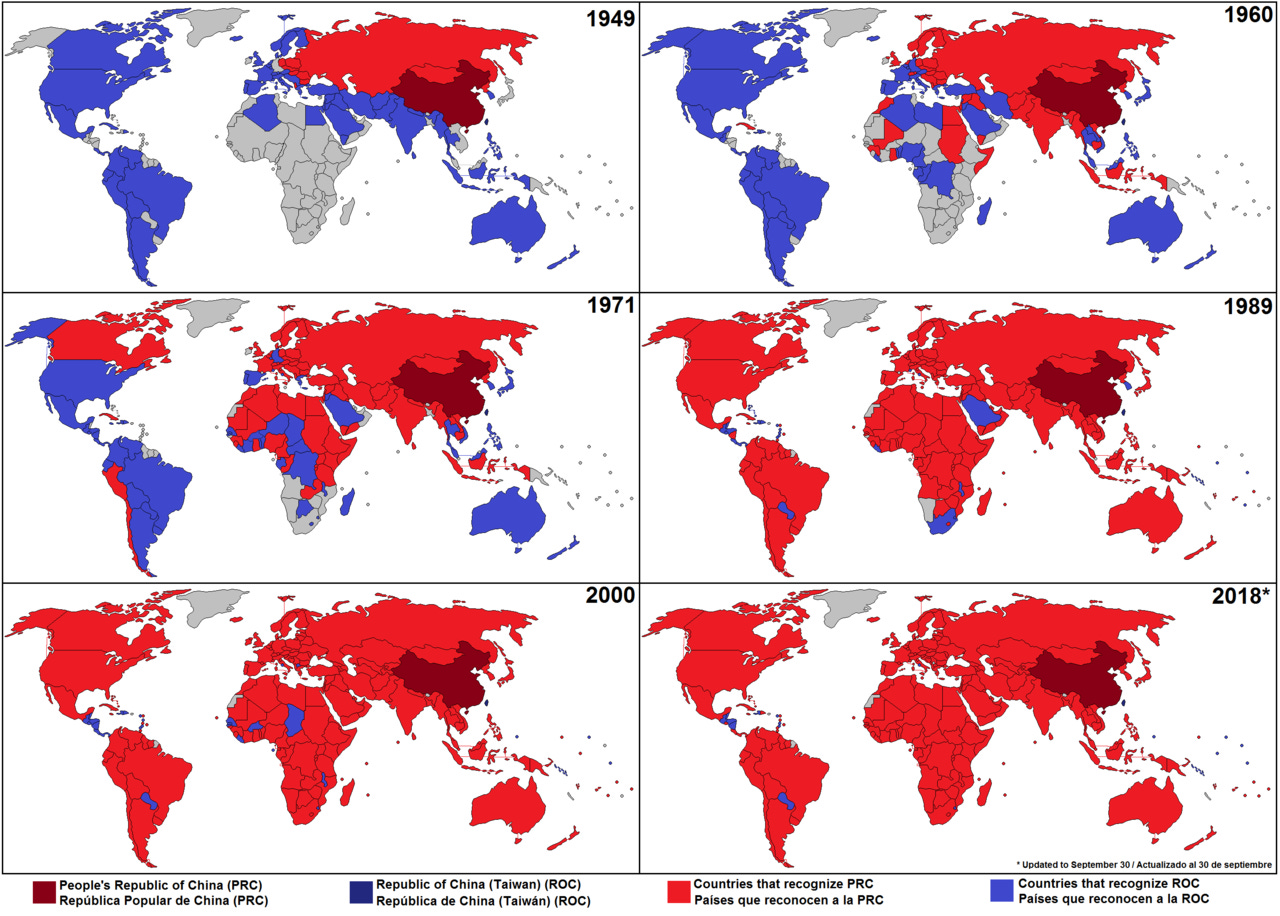 Source: Universalis via Wikimedia Commons
While the Pacific has been a locus of struggle between the PRC and ROC for some time, there is now a renewed attempt on the part of the former to push Taipei out of the region (as well as continuing efforts elsewhere). The PRC seems to be poaching ROC allies as a means to intervene in Taiwanese politics. As Brian Hioe at New Bloom points out, Beijing held off during the previous, more pro-PRC administration in Taipei, with all of the six recent switches away from Taiwan coming since the election of Tsai Ing-wen as President. That may signal an effort to undermine Tsai- who is coming under pressure from elements of her (broadly pro-independence) coalition- ahead of presidential elections next year. More widely, a good deal of sentiment in the Pacific appears increasingly unhappy with levels of US, Australian and Tawianese commitment to the region and convinced that switching to Beijing reflects a changing economic and political reality. As Dan McGarry at The Interpreter puts it, '...[p]oliticians were presented with a choice: Move now, and get a better deal than Taiwan has ever offered. Or come back later, hat in hand.' 
Solomon Islands PM Manasseh Sogavare wrote to Mike Pence in July stressing the need for help from the US, Australia and Taiwan on infrastructure development, an issue which he wrote '...has the potential to split the cabinet and could cause the government to fall…'. Australian PM Scott Morrison promised $170m (US) in infrastructure funding during a visit to Honiara in June, in a move interpreted as an effort to push back against the growth of Chinese projects in the region. Relations were then soured at the Pacific Islands Forum in August, where Australia agitated for a watered down declaration on climate change, much to the apparent frustration of island state leaders, many of which face severe threats from inundation. The fallout from the summit led to public comments condemning Morrison as 'insulting' and 'condescending' by Fijian PM Frank Bainimarara, which prompted a Chinese foreign ministry spokesperson to contrast 'sincerity, real results, affinity and good faith' on the part of China in the Pacific with Australia as  'a condescending master'. It's hard not to wonder if the turn towards Beijing on the part of the Solomons and Kiribati (and possibly Tuvalu?) might not be related to all this, especially with Soavare's statement on establishing relations with the PRC referencing China's willingness '...to assist developing and least developing countries in the pursuance of the United Nations Sustainable Development Goals, including actions on climate change.'
We don't know for sure what kind of deals the PRC has offered to the Solomons and Kiribati, though there has been talk of a $500m package for the Solomons. That would be big in proportion to the country's size, but not beyond the realms of possibility.  It's significant that both the US and Taiwanese responses to the Solomons shift alluded to the idea of debt-trap diplomacy (the notion that China deliberately lends unsustainable amounts to various countries as a means of gaining eventual political and economic dominance). The debt-trap idea (which only emerged in 2017) seems to have quickly become a central feature of official US foreign policy on China (and really their main line on BRI). 
Beyond rhetoric, though, USAID may withdraw its assistance programmes in response to the decision and Mike Pence has cancelled a scheduled meeting with Sogavare. Meanwhile, a number of US Senators have agitated for the passage of the TAIPEI Act, which would commit the US government to support Taiwan's diplomatic efforts worldwide and impose penalties on countries severing ties with Taipei. Marco Rubio has gone so far as to argue on Twitter for Russia-style sanctions to be imposed on the Solomons. As several observers have pointed out, this would put the US in the bizarre position of condemning other countries for switching recognition to the PRC- something which actually brings them into line with the US' own diplomatic stance. Daniel Drezner in theWashington Postnotes that this contradiction hasn't stopped the Trump administration previously, as when it recalled Central American ambassadors over three countries making the same switch last year. Drezner speculates that this is the sort of trend that could eventually land us in Cold War territory, with countries facing economic cut-off from the US becoming more and more dependent on China to prop them up and thus creating opposing blocs of US and Chinese proxy states. We're certainly not there yet, but these are the kinds of stories that provide a basic outline of how we might end up stumbling into such a world. And it's not the only story like that this month…. 
IRAN
Petroleum Economist reports on an apparent deal for China to invest $280bn in Iran's hydrocarbons sector, in addition to $120bn more in transport and manufacturing. The story has been picked up in a few places, including The Times. But key elements seem misleading or possibly dubious. The original report is that the deal was proposed as an update to a previous 2016 Iran-China deal, during a visit to Beijing by Iranian Foreign Minister Mohammad Zarif. It is not clear whether the deal has been signed, nor which side is supposed to have put forward the various proposals. In any case, there is a history of China signing these kinds of expansive framework agreements with other states- but they act more as a framing of aspirations rather than a detailed plan for specific investments- as you might think was the case from reading the reporting. Indeed, the 2016 agreement was a similarly aspirational document. 
All this is fairly standard for China's international cooperation deals and how they get reported in the West. But the specifics of this one are particularly remarkable- and some sound pretty unlikely. First, the mooted total of $400bn looks far too large to be credible. It would absolutely dwarf not just current Chinese investment in Iran ($27.65bn since 2005 according to one estimate), but Chinese FDI in any developing/emerging market (the largest being Brazil, at $65.6bn), or even in the US ($185.5bn). Second, the deal supposedly contains a provision for 5000 Chinese security personnel to protect Chinese projects in Iran. It's not entirely clear what is meant by 'security personnel', but if these figures are correct then this clause probably isn't referring to People's Liberation Army troops, despite an eagerness to interpret it this way in some quarters. In neighbouring Pakistan (where the China-Pakistan Economic Corridor is a potential blueprint for China's involvement in Iran), Pakistani authorities themselves have deployed a special division of military and paramilitary troops to protect Chinese workers and projects. Chinese private security- including Chinese branches of multinational security firms like G4S as well as Chinese-headquarted companies- have also been playing an increasing role in Pakistan and elsewhere. Such firms have been involved in high profile rescues and military actions, as fictionalised in the 2017 blockbuster Wolf Warrior 2, which has a former PLA soldier fighting to protect aid workers from rebels and US/European mercenaries in an unnamed African country.    
Iran has been squeezed by US sanctions of late, with a crackdown by American authorities on international firms doing business in the country, including oil exports to the likes of China and India. So there is a dovetailing of apparent interests here which might explain the timing of this announcement. Iran wants to find a way around sanctions, especially when it comes to selling oil. China wants to gradually wean itself off reliance on the dollar and towards using the renminbi in more of its international transactions- concerns which might well be appear more pressing because of both the US-China trade war and the US sanctions on Iran. But, with China's central bank holding upwards of $1tn in dollar-denominated reserves, it is highly unlikely that China is yet ready to risk having its major banks and firms falling foul of American sanctions and being locked out of the US financial system as a consequence. 
China has institutions set up to trade in barter or renminbi, which were able to endure previous sanctions and keep trading with Iran because of their (purposely) limited linkages to global finance. But if sanctions were to be enforced against the likes of state-owned oil firms Sinopec and CNPC, however, the impact would be far more serious- with consequences for the US as well as the PRC. Seen in this context, the part of the reported Iran-China deal which allows for China to buy Iranian oil using African or Asian currencies may well be a bluff or a negotiating card in the continuing US-China trade talks. US actions rely on China's need for access to American banks being greater than its need for Iranian oil. That's probably a safe bet to make, even if Chinese firms are still testing the limits of what they can get away with in importing from Iran. On the other hand, sanctions won't last forever- and this is a good time for the PRC to secure closer relations with the one major Middle East oil exporter which remains outside the sphere of US influence. Iran has long looked like it would become a key part of the BRI jigsaw, along the lines of CPEC in Pakistan. That appears much closer now. Just don't expect the bill to come to $400bn or the People's Liberation Army to open a base in Bandar Abbas any time soon.
THAT'S ALL FOR NOW. CLICK THE BUTTON BELOW TO SUBSCRIBE AND GET THE NEXT ISSUE STRAIGHT TO YOUR INBOX (IT'S FREE!).